Which Mobile Device is Best?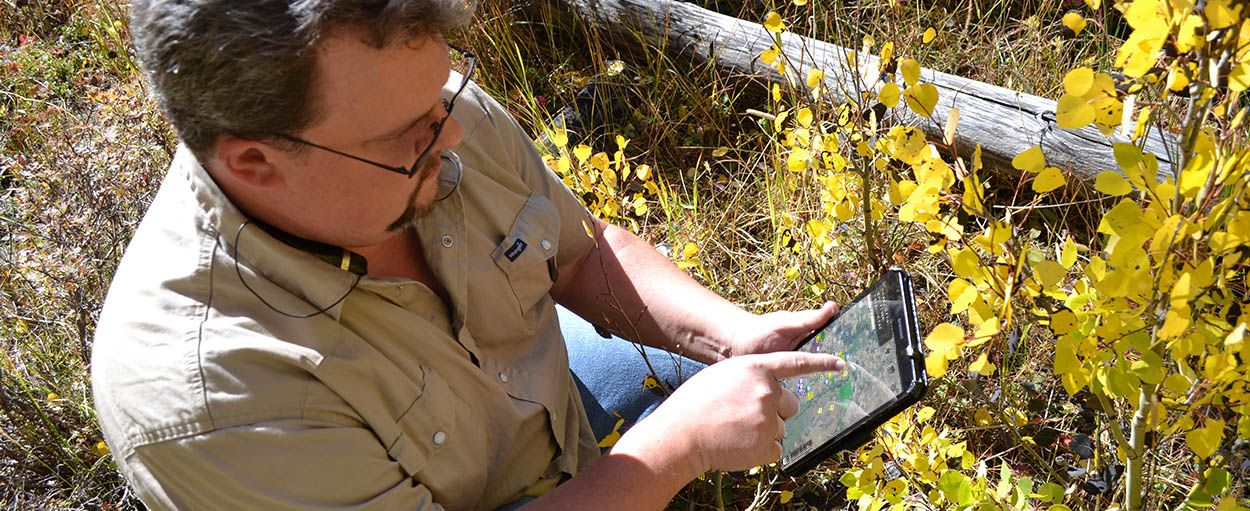 AgTerra's applications are only as good as the device that runs them. While our minimum requirements will allow most modern Android mobile phones and tablets to be used, a good quality, field-tested device can often save headaches down the road. When it comes to using add-ons like SprayLogger, a device with good processing power as well as high quality GPS and Bluetooth components is a necessity.
ANDROID MINIMUM REQUIREMENTS
Android 5.0+

2GB+ RAM

8MP Camera

Stand alone GPS built in

1.9GHz+ quad core
APPLE MINIMUM REQUIREMENTS
iOS v10.0

Cellular modem required for GPS location

Wi-Fi Only Devices: Bluetooth GPS device required
While most manufacturers do not list the quality of the internal Bluetooth or GPS receiver built into a device, users can typically expect higher quality components in the mid to upper-price range on name brand devices. Low cost or budget friendly devices – even name brand – are often made with inferior components that can often fail to meet expectations through low GPS accuracy or dropping of Bluetooth signal.
Samsung Galaxy Tab S3 (Tablet)
Samsung makes great products. Their smartphones and tablets have reliable hardware including high-sensitivity GPS, bright displays, good on-board cameras and more.  The software included on most units also helps to make the devices useful for all your business productivity needs. The Samsung Galaxy Tab S3 is a tablet definitely worth considering for field use. As a mid-sized tablet with an 8″ display, it is easy to hold in one hand.  Many people like the idea of a larger display (the S3 is also available in a 9.7″ size), but these units can be difficult to carry and consume more battery  while working in the field. The 8″ S2 gives users the feel of a big screen while still making it easy to map and fill forms in the fields.
The Tab S3 has excellent display, GPS, and camera features.  The high resolution display is suitable for use in direct sunlight and the built-in GPS is accurate within 3-5 meters (common for most off-the-shelf GPS units).  We have found that it works well even in canyons and heavy vegetation.  The on-board camera takes high quality pictures which can be geo-tagged in MapItFast or added to Strider forms.  Data entry is further enhanced with optional voice to text entry that works well even with considerable background noise.
If you are using the Galaxy Tab S3 with MapItFast and storing quite a bit of data (i.e. custom basemaps or layersets), you will want to take advantage of the external SD card. Not all devices have external SD card capability and this is a key feature to look for if you often use MapItFast and Strider while offline.
Samsung Galaxy S7 (Phone)
If you prefer to work from a smartphone, consider the Galaxy S7.  The S7 has all the features of the S3, but has even better screen resolution and a higher resolution camera.  The battery life on the S3 and S7 are very good.  You can expect a full day of use.
Runner-up
Samsung Galaxy Tab S2 (Tablet)
While this device is an older model, it is still a well-made, proven device that works well with AgTerra's products.
Apple Devices
The MapItFast app is compatible with iPhones and iPads running iOS 10.0 or later. One important thing to note however, is that the device must have a cellular modem. WiFi-only tablets will not have the built-in GPS receiver necessary for accurate data collection in MapItFast. This is especially important to check on iPads because many models are WiFi only.
Accessories
MapItFast does consume quite a bit of power for GPS and synchronization and we have learned that external battery chargers can be very useful. If you are working in the field for extended periods of time, we recommend carrying an external battery, such as Zero Lemon, for charging.
GPS accuracy can also be improved through the use of external GPS receivers. AgTerra recommends a device such as the Garmin Glo which can help achieve accuracy of about 2-3 meters on mapped objects.