No-Nuisance Record Keeping for Mosquito Vector Control
FoggerLogger is the original automated record keeping and reporting hardware and software system for pesticide application tracking. Built on the SprayLogger framework, it is specially configured for use with any ultra-low volume (ULV) equipment. This one-of-a-kind solution generates precise records of mosquito ULV routes through city streets on the fly. Mosquito control applicators simply start the job and drive. Administrators get improved efficiency of treatments while equally inspiring public confidence with automated, detailed reporting.
As the public health concerns surrounding mosquito-borne diseases like West Nile, Zika and Eastern Equine Encephalitis continue to grow, vector management programs are more important than ever. Program managers need a clear record of mosquito control activities without interrupting work in the field. FoggerLogger is the answer.
Cut Through the Fog and Clarify Your IPM Strategy
Much more than just application tracking and reporting, FoggerLogger is a complete package for your Integrated Pest Management strategy. Joined with MapItFast and Strider, your mosquito control program gets AgTerra's full mapping, data collection and reporting power. Simplify documentation and sharing of everything you do, from surveillance and source reduction to larval and adulticide treatments.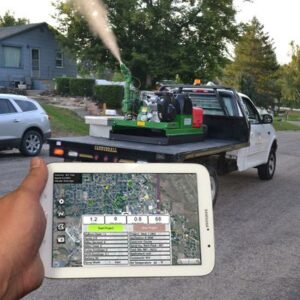 ULV Application
FoggerLogger automatically maps fog and no-fog tracks. Simply answer 1-5 questions to start the job and drive. The system monitors when your ultra-low volume (ULV) equipment is active and then syncs your route to your AgTerra account where it can be viewed by any authorized users. All in real-time.
Baiting and Trapping
Use MapItFast to add location data to your other vector management practices. Map puck or pellet drops, mark trap locations, record larvicide treatments, and take geo-photos of standing water and breeding sites.
Disease Testing
Enhance your surveillance protocol with precise GIS data for each sample. Records can be augmented with Strider's custom form data and exported for use with your lab's existing database.
Pollinator Protection
Mark no-fog areas with MapItFast before you head out. When applicators start their route, they can view these locations directly from their mobile device, so they know exact locations to avoid.
FoggerLogger Simplifies Mapping and Reporting
The FoggerLogger hardware is easily retrofitted to any spray rig with ultra-low volume (ULV) equipment and works side-by-side with your existing setup. Mosquito control applicators automatically track, map and report their fogging routes in real-time.
Recording your mosquito control jobs is incredibly easy. FoggerLogger gives applicators the power to create jobs right from the field in seconds, increasing productivity and saving office staff valuable time. To start an application, users answer at most 5 simple questions from drop-down menus with predefined selections on their mobile device. After that, FoggerLogger does the rest. Pesticide application tracking is visible on a live, moving map. FoggerLogger even indicates when your ULV is inactive, so that you can demonstrate your care in avoiding no-fog zones.
Focus on Fogging. We'll Do the Syncing For You
All your fogging jobs are securely available in your private online account for viewing, exporting and printing when you pull into the shop. You can eliminate the need for paper record keeping, and you are able to retrieve and share permanently stored jobs with others immediately or at a later date.
FoggerLogger is a plugin to MapItFast, the most intuitive mapping app on the market. Integration with this powerful software means applicators can extend mapping and reporting to their entire vector control operations, from monitoring traps and breeding locations to tracking larvicide applications.
Gather all your field data with MapItFast and Strider
A MapItFast and Strider subscription is included with every FoggerLogger system, giving you access to the industry leading software built for easy-to-use, powerful mapping with custom digital forms and printable reports. MapItFast and Strider will enable your organization to map and track every aspect of your operation.
Put the Power of Mobile to Work for You
Here are just some of the ways AgTerra's full suite of data gathering products can be put to use for mosquito vector control operations.
Map Vector Control Activities
Map your gravid and light trap locations to visualize zone coverage.

Use a Data Dictionary to establish preset names and icons for different traps. Then it's a snap to document new trap locations.

Draw polygons around control zones to plan your sampling strategy.

Get automatic calculations of area for each zone.

Mark locations of reported nuisance spots and dispatch crews to inspect them.

The optional Dispatch plugin (available for Apple users) lets you assign personnel and intervention forms to the location, and track when the task has been completed.

Attach before and after photos of old tires, buckets and other sources to document reduction efforts.
Collect and Report on Surveillance Data
Create an intelligent electronic form for all surveillance activities: trap monitoring, larval surveillance or landing rate.

Use relevance logic so that investigators fill out only the fields that are relevant to their surveillance technique.
And use the built-in counter widget and calculations to streamline landing rate counts.

Attach forms to mapped control zones giving your collected data location-awareness.

Include weather, personnel information and signatures for superior accountability.

Generate instant printable reports of surveillance activity and share them by email automatically.
Analyze and Share Your Results
Monitor surveillance activity from the office to follow work in real-time.
Use active map triggers and get visual updates of field activity.

Watch an icon turn from red to green when an investigator services a trap.
Or indicate that treatment thresholds have been reached by turning a polygon to red based on larval surveillance counts.

Assess the success of an intervention policy by tracking surveillance results over time, all from your Strider dashboard.
All authorized users have access to your maps and forms, which are securely stored on your private AgTerra account.

No need to duplicate maps by hand or rely on seasonal workers to return their copy in good condition.

Export all your sample data in electronic format designed to match your testing lab's needs.

You can easily update your records with results returned from the lab and skip the tedious data entry.
The AgTerra Advantage
Adaptability
What sets FoggerLogger apart from other ULV tracking devices is its ability to fit with your existing mosquito management infrastructure.
Universal Hardware
Our datalogging hardware connects to absolutely any ULV fogger (Clarke, B & G, London Foggers, you name it), and the software works on any Android device. There is no need to purchase additional specialty hardware to get you out and fogging.
Versatile Data Collection
Strider's drag-n-drop form builder lets you easily create custom electronic versions of the field data forms you already use. With lots of dynamic widgets, you can capture every detail you come across in the field. Use drop-downs to quickly select the personnel filling out the form, counters to accurately document your surveillance and external data lookups to pull in program specific information. Conditional logic makes for intelligent, electronic forms designed to ask only for information that is relevant to previous entry responses. That way, field staff streamline their data gathering task.
Easy Distribution
AgTerra makes it easy to send your data exactly where it needs to go, automatically. FoggerLogger's built-in reporting generates instant reports for each fogging application as well as summary reports filtered by customer and job. These reports can be printed or emailed to easily demonstrate the effectiveness of your vector control strategy. MapItFast and Strider add even more sharing versatility. Map projects can be exported as shapefiles or in KMZ format for use on Esri and Google platforms. Form data can be exported as a CSV and opened in Excel, where you can manipulate it any way you choose.
Get the most advanced pesticide application tracking and record keeping system on the market
for mosquito mapping and fogging.
Call AgTerra TODAY to get started at (307) 673-1050.
For well over a decade AgTerra has enabled natural resource professionals to simplify data collection and reporting while delivering greater value to their customers. How can we help you? Contact us today and let us help you learn how easy and affordable our technology can be for your workforce and operations.