Recording spray applications has never been easier!
With today's government regulations, pesticide record-keeping is as critical as ever.  Guidelines such as the National Invasive Species Information Management System (NISIMS), National Pollutant Discharge Elimination System (NPDES), Worker Protection Standard (WPS) and other regulations make pesticide record-keeping requirements a top priority. Transportation departments, government agencies, utilities, energy companies and others require precise, accurate accounting of chemical applications.
AgTerra's powerful spray tracking equipment paired with an integrated map viewer and complete reporting system allows businesses to automate data recording and more. The result? A professional reporting solution that will set your business apart from the rest…an effective system to track herbicide applications with GPS and fulfill all reporting requirements.
Capture the entire picture
SprayLogger from AgTerra is the easy and affordable GPS tracking and data logging solution for all pesticide applications ranging from backpack applications to high volume and hy-rail spray trucks. SprayLogger records and maps chemical applied from up to 15 discharge points or nozzles. AgTerra's MapItFast app acts as the mobile dashboard, giving the applicator a live moving map display during the spray job.
Lightning Fast Mapping and Reporting
MapItFast is a powerful web-based and mobile application that can be used on an Android or Apple smartphone or tablet to quickly gather points, lines, polygons and geotagged photos. Map objects may be placed using the device's built-in GPS or by drawing it on the map. MapItFast works without an Internet connection and any data collected offline will be synchronized with a private online mapping dashboard when the device returns to a connected environment.  The app can be used on its own or alongside SprayLogger, making it an ideal mapping and data solution for collecting spatial data related to weed inventory and control.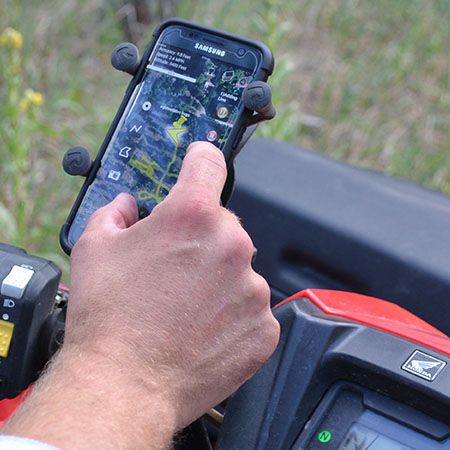 Collect More Than Just Spray Data
Along with collecting application data through SprayLogger, MapItFast collects any other relevant data with Strider forms. These smart digital forms are totally customized to a business' needs and can be used to replace old paper forms. When a form is attached to a map object, the data is automatically synchronized with a private Strider database. From there, the data can be sorted, exported to a variety of formats or generated as a custom report. AgTerra offers several pre-built weed inventory and pesticide application forms that can be modified to fit the specific data collection needs of a business.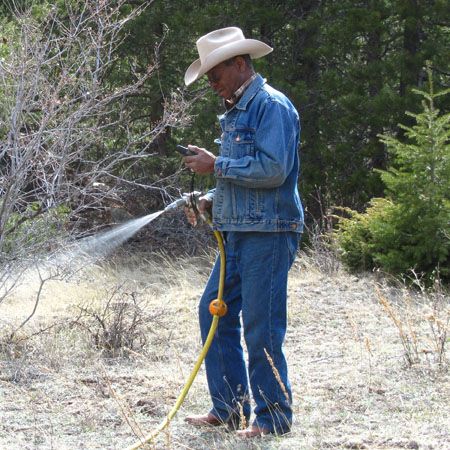 Affordable Pesticide/Herbicide Application Tracking
MapItfast and Strider together can provide an affordable alternative to SprayLogger's automated application tracking. The MapItFast app allows the user to place points, lines and polygons associated with a treatment and Strider forms can be filled out with the where, what, why information required for herbicide record-keeping. Completed records can be viewed and shared through the Strider dashboard.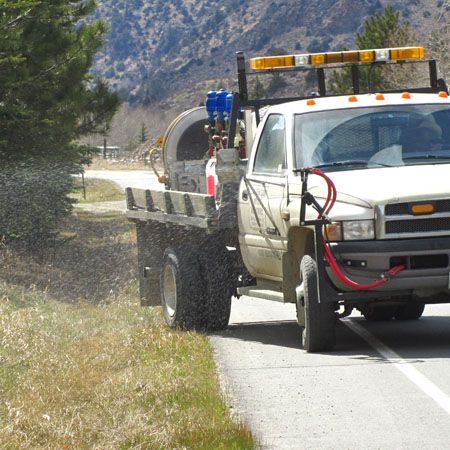 The All-in-One System
When used together, SprayLogger, MapItFast and Strider give businesses a complete system for tracking and recording day-to-day operations. Some examples of how MapItFast is used by companies include:
Real-time location tracking to streamline operation
Before and after assessments and reporting
User-specific projects set up through an advanced permissions system
Field data integration with existing databases and GIS
Customized forms and reports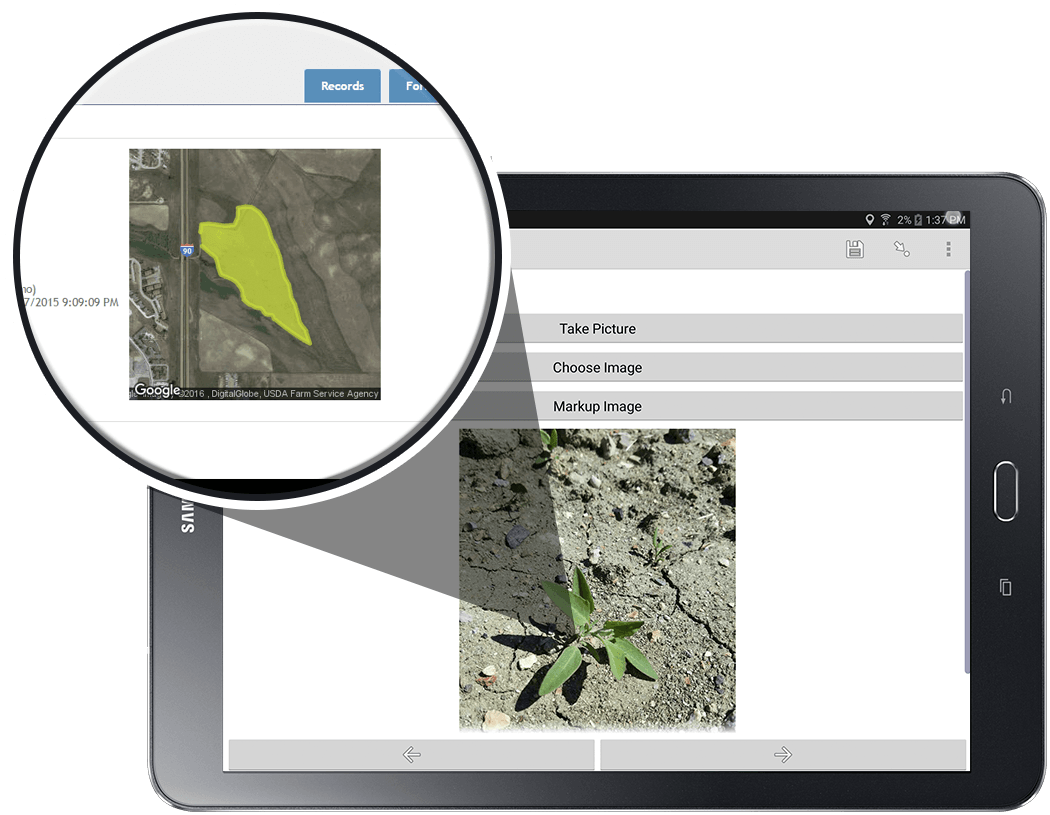 Simple Export to KMZ and SHP File Formats
Data collected in MapItFast can be exported and shared in database- or GIS-compatible formats.
Easily Create Custom Forms in Excel with Templates
Strider can be used for anything that requires a form, not just herbicide applications. Use forms to record weed infestations, safety checklists, or even to generate invoices at the office.
Quickly Calculate Area and Distance in Real-Time
MapItFast automatically captures line length and polygon area when an object is drawn. Forms may be set up to perform a variety of other calculations as needed.
Simple Form Features for Quick Field Entry
Make forms easy to use with features like skip logic, filtered lists and lookup tables to pre-fill data fields.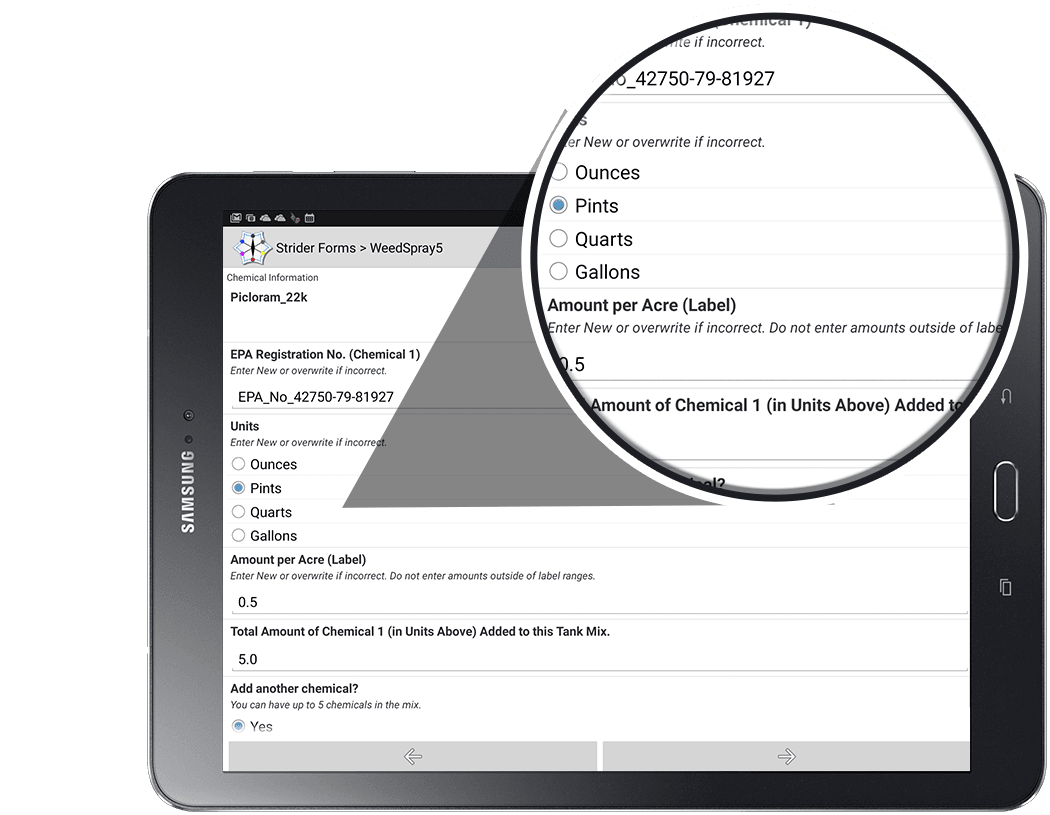 Create Custom Maps and Save for Offline Use
Built-in basemaps can be stored for offline use or custom basemaps can be built and used in the app.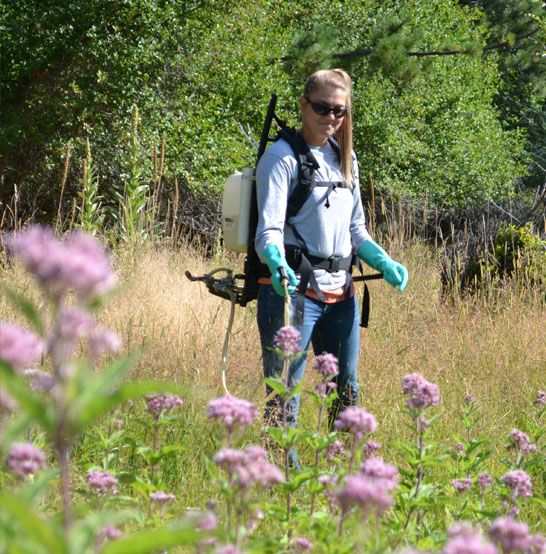 Custom Solutions for Your Needs
AgTerra understands that businesses and customers sometimes require a more customized approach to pesticide recordkeeping. Our MapItFast and SprayLogger solutions are designed to gather data in the easiest manner possible while at the same time remaining flexible and scalable. Contact AgTerra to learn how to add custom parameters and reporting to any job.