Mosquito Vector Control.
No-Nuisance Record Keeping.
As the public health concern surrounding mosquito-borne diseases like West Nile and Zika continues to grow, vector management programs are more important than ever. Program managers need a clear record of mosquito control activities without requiring constant interruption of work in the field.
Built on the SprayLogger framework, FoggerLogger is a hardware and software system for spray application tracking that is specially configured for use with ultra-low volume foggers. This one-of-a-kind solution generates precise records of mosquito ULV routes through city streets on the fly. Operators simply start the job and drive. Administrators get improved efficiency of treatments while equally inspiring public confidence with automated, detailed reporting.
Much more than just application tracking and reporting, FoggerLogger is a complete package for your Integrated Pest Management strategy. Joined with MapItFast and Strider, your vector control program gets AgTerra's full mapping, data collection and reporting power. Simplify documentation and sharing of everything you do, from surveillance and source reduction to larval and adulticide treatments.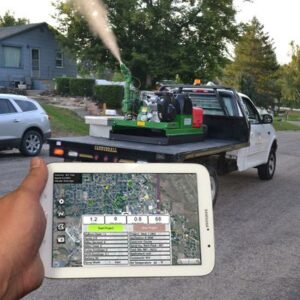 ULV Application
FoggerLogger automatically maps fog and no-fog tracks. Simply answer 1-5 questions to start the job and drive. The system monitors when your ULV is active and then syncs your route to your AgTerra account where it can be viewed by any authorized users. All in real-time.
Baiting and Trapping
Use MapItFast to add location data to your other vector management practices. Map puck or pellet drops, mark trap locations, record larvicide treatments, and take geo-photos of standing water and breeding sites.
Disease Testing
Enhance your surveillance protocol with precise GIS data for each sample. Records can be augmented with Strider's custom form data and exported for use with your lab's existing database.
Pollinator Protection
Mark no-fog areas with MapItFast before you head out. When applicators start their route, they can view these locations directly from their mobile device, so they know exact locations to avoid.
FoggerLogger Simplifies Mapping and Reporting
FoggerLogger from AgTerra is the ULV fogging, mapping and reporting solution that is easily retrofitted and works side-by-side with your current equipment. Applicators automatically track, map and report in real-time.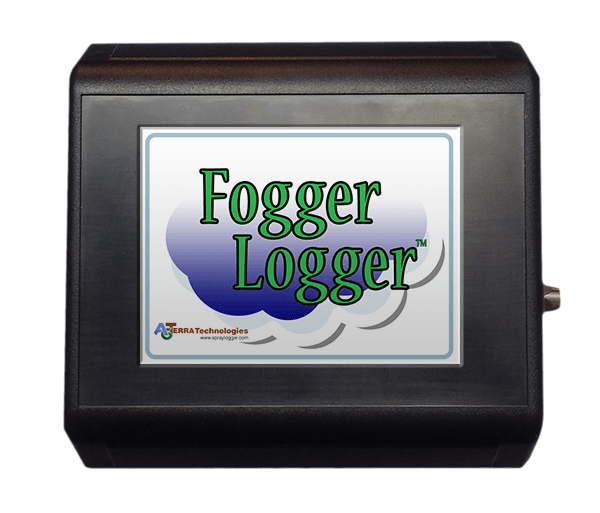 Recording a job is incredibly easy. FoggerLogger gives applicators the power to create jobs right from the field in seconds, increasing productivity and saving office staff valuable time. Applicators only need to answer up to 5 simple questions from drop-down menus with predefined selections on their mobile device and FoggerLogger does the rest. All application details are automatically tracked along with a map created showing every detail of the application. All jobs are securely available in your private online account for viewing, exporting and printing when you pull into the shop. Paper reporting is eliminated and you are able to retrieve and share permanently stored jobs with others immediately or at a later date.
FoggerLogger is powered by MapItFast, the most intuitive mapping app on the market. This powerful software means applicators can extend mapping and reporting to other operations such as monitoring traps, breeding locations, and biological applications.
A Complete Recording, Mapping and Reporting Solution
With FoggerLogger you get more than just ULV mapping and reporting. You get an all-in-one mosquito and vector control recording, mapping and reporting system.
The FoggerLogger system by AgTerra is much more than a hardware mapping and reporting solution for your ULV's. Included with every FoggerLogger is MapItFast and Strider, industry leading software built for easy-to-use yet powerful mapping with custom digital forms and printable reports. MapItFast and Strider will enable your organization to map and track every aspect of your operation.
With MapItFast and Strider you can:
Map bait locations and quickly record status updates with custom digital forms

Track and report hand spread larvicide applications

Create and deploy work order assignments

Create application routes from the desktop and synchronize with field personnel

View field applicator locations in real-time from a desktop

Create custom, forms and printable reports for every aspect of your operation
Features Include:
Simultaneous field mapping for points, lines and polygons and geophotos

Smart, fully customizable digital forms

Collect data offline

Use online or custom offline maps and layers

Deliver printable reports from the field

Web mapping dashboard for project and data management

Single user and group access permission controls

Synchronize every project in real-time

Export to other GIS and database systems
Key Features and Benefits
Compare FoggerLogger to other Ultra Low Volume and mosquito reporting applications.
Features include:
Automated maps of areas fogged and not fogged

Highly detailed and printable reports

Permanently stored maps and records for every job

Automated usage, area and distance calculations

Automated weather data included with reports

Export to other GIS and database systems

Works offline

Use custom maps and data entry forms
Primary benefits:
Quick start any job, minimal training

Eliminate lost records and paperwork

Provide immediate accountability for any job

Track operations on all rigs in real time and over time

Meet all pesticide application requirements

Automate other mapping and reporting operations with the same product
Get the most advanced pesticide record keeping system on the market
for mosquito mapping and spraying.
Call AgTerra TODAY to get started at (307) 673-1050.
For well over a decade AgTerra has enabled natural resource professionals to simplify data collection and reporting while delivering greater value to their customers.  How can we help you?  Contact us today and let us help you learn how easy and affordable our technology can be for your workforce and operations.