Operations tasked with managing the spread of vector-borne diseases inspire community confidence with detailed, accurate accounting of their management program. AgTerra's Vector Control Solution clears the fog surrounding mosquito management.
Surveillance, breeding site mitigation, and ground and aerial based treatments can all be mapped with MapItFast, and reported and dispatched through Strider Forms and Reports. Fogging operations are accurately tracked in real-time with FoggerLogger.
Mosquitoes are annoying!
Mapping and data collection must be simple, and fast.
Map Quickly
Fast and effective response is critical in vector control operations.  Vital activities include prevention, surveillance and control.  MapItFast from AgTerra makes it easy for personnel to map with a single tap and gather details for locations of standing water, breeding sites, trap locations, and larvicide treatments.  Additional details such as trap set and inspection dates, geo-referenced and timestamped photos, methods and materials used, personnel involved and more are added to map objects through the convenience of electronic forms designed by you.
Gather Data and Create Reports Fast
Vector surveillance and control operations are taken to the next level using AgTerra's products and solutions.  For instance, not only can a supervisor use a standard web browser to access a map of operations showing trap locations, treatments and more, he or she can visualize the status of the operations with color coded points, lines and polygons that are automatically changed as field workers fill out forms.  Workers can also automatically email printable reports while on location.
Apply Treatments Effectively
When fogging adult populations becomes necessary, AgTerra's FoggerLogger product is perfect for showing exactly where operations occurred.  Furthermore, details such as applicators, equipment, amount and type of chemicals used, weather, time of application and more and automatically included in the maps that may be visualized in a private account, exported to shapefile or uploaded into Google Earth.  Personal can be dispatched to location and supervisors can monitor operations in real-time on the web-based mapping dashboard.
Using AgTerra's products, you can tailor your operational needs for:
Surveillance
Larval Counts
Biological Treatments
Dispatching
Trap Monitoring
Fogging Operations
You can tailor your solution to perform activities such as:
Viewing a live map of trap locations automatically highlighting those needing inspection
Tracking all treatment operations from the past or while they are concurring
Automatically when and where mapping fogging operations were conducted
Your organization is transformed because:
Everyone now collaborates contributing to data collection and mapping projects
They can work offline or share in real-time
All data is centralized into one location
End users appreciate received GIS consumable data and printable reports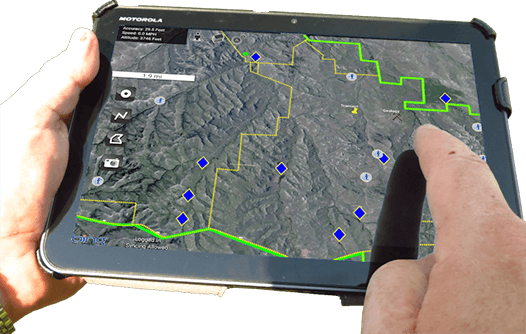 Built-in basemaps, or add your own
Overlays such as parcel boundaries
Custom mapping icons
Android and/or Apple
Larval treatment and other templates
Printable reports, customizable to your needs
Multiple functions and logic including pre-populated fields, lookup tables, calculations, photo markup, signatures, and more
Rapid install datalogger
Spray and no-spray polylines based on fogger action
Highly detailed maps and application reports, online and exportable
We provide everything you need to get your program started today including free personal support and access to help videos and guides.  Contact us to learn how you can get started today!
Contact AgTerra TODAY, ask for a live demo, and let us help you
AgTerra's vector control solutions can streamline your operations and deliver the results you need
For well over a decade AgTerra has enabled natural resource professionals to simplify data collection and reporting while delivering greater value to their customers.  How can we help you?  Contact us today and let us help you learn how easy and surprisingly affordable our technology can be for your workforce and operations.