The impact of changes in land management practices can take seasons or years to materialize. An effective plan for monitoring rangeland is essential to making sure those changes meet your objectives.
MapItFast and Strider are specially designed for easy field data collection and impactful report generation. AgTerra has further enhanced their power specifically for the land manager with our Rangeland Management Module.
AgTerra's Rangeland Management Module
The Rangeland Management Module for MapItFast gives you all the tools you need to digitize your long- and short-term monitoring protocol. Activated through MapItFast, all the forms you use to track and analyze management practices are available in the palm of your hand, even in the most remote environments. No cellular data or Internet connection is necessary.
Any number of the module's pre-installed forms can be attached to any mapped object. Photos taken from your mobile device and attached to the same objects further enhance your picture of the land.
Mapped data and forms are automatically synchronized to a cloud account that is accessible on any Internet browser by users with the proper permissions. Authorized users may export the data for use in other database and GIS systems and create printable reports and maps that include photos, signatures, business logos and more.
The mobile solution replaces paper forms and delivers more accurate data, streamlined workflow, and automated reporting. Intelligent mobile forms use advanced form controls to simplify the data collection process.
Use the The Rangeland Management Module out of the box to enhance your existing management practices.
Map your monitoring activities with a single tap, and instantly see the area you've covered.
Attach Geophotos, drawings, and photo markup to any point in your land.
Generate printable reports with photos, drawings, signatures, logos and more.
Control user permissions so only those you want to see your data can.
Export your map and form data as Shapefiles, KMZ, CSV, MDB and more for use in any third-party database.
Use maps and forms in the most remote areas. No internet service required.
Or use Strider's drag-n-drop builders to capture your specialized management techniques. The Rangeland Management Module is fully flexible and scalable. All input forms and reports can be used as-is or modified to meet your unique requirements. AgTerra can also assist with creating detailed summary reports that deliver powerful data analysis to let you identify trends.
Avoid purchasing expensive, specialized devices. The Rangeland Management Module works with any mobile device. And our free REST APIs for MapItFast and Strider allow you to connect your data to your existing database system.
Strider Forms uses advanced form controls to supercharge your data collection
Conditional Logic advances to new fields based on reponses to earlier ones, so you answer only the questions you need to.
Autocomplete Fields respond to your previous answers so you don't have to.
Repeat Groups allow you to collect information with an indefinite number of entries.
Pick Lists provide pre-loaded options, so you don't need to constantly reenter common answers.
Counters keep track of your form entries, so you can easily sort and filter your data.
Lookup Tables pull in information from your database to fill in field values.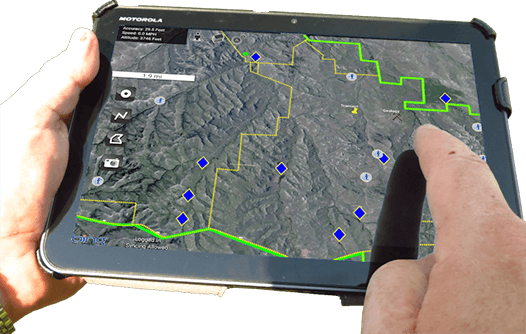 Track the Evolution of Rangeland
Long-term monitoring is the key to meeting management objectives.
Organize and record your data over time
To understand where your land has come, you need to know where it's been. Maintaining a store of data points recorded over time is crucial to auditing the management techniques you implement.
AgTerra's Rangeland Solution helps you establish a baseline and measure changes in plant community composition, cover, structure, and soil resource conditions that occur over time.
All your field observations and maps are permanently warehoused in your own private online account.
---
A picture is worth a thousand words
No written description can compare to holding two photos from the same location side-by-side.
With MapItFast, it's easy to attach photos to map objects and visualize short and long term trends at the same location.
Your geo-photos can be embedded into any Strider electronic form or report. You'll have vivid documentation of your management practices that speaks more loudly than words.
---