Obtain maximum mapping efficiency with our trailblazing Simultaneous Mapping. This feature, unique among mapping apps, lets you record two lines or polygons at the same time using GPS. You can additionally draw any object by hand and add or edit forms all while you continue to record.
9
Add Any Form to Any Map Object
What do you do if you head out into the field to check on the plant cover for a particular section of your rangeland only to come across an invasive weed? With most field data gathering apps, you would have to stop your GPS tracking, exit your rangeland cover project and load your weed survey project. Then, when you're done documenting the weed, you'd have to go back into your rangeland cover project and start up a new GPS polygon. It's enough to make you want to go back to paper forms!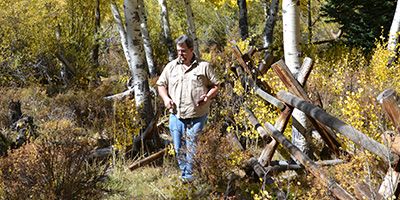 MapItFast is designed to work the way field workers do, with the flexibility to adjust to what the conditions demand. That's why MapItFast allows you to attach any form to any object across your projects. So, you can survey the weed you found while still GPS tracking your range area. Read the Docs

Our newest optional plugin for MapItFast, Dispatch capability is functional for our Web and Apple users. Create work orders and assign them to specific map locations. Then dispatch specific crew members to those locations. The handy Dispatch dashboard shows cases color coded by status. Administrators can follow cases for the whole team and see progress in real-time. Users can easily see all the cases assigned to them, and quickly submit work order forms and mark cases as completed.
7
Add Location Awareness to Forms
Let's say your field team needs to reference geographic information from objects they are mapping. Strider components give them the ability to capture location-specific information from any form. The captured values can be viewed in the field and included in automated reports.
The GeoPoint Widget allows you to capture the latitude, longitude, elevation, and GPS accuracy for your current location and display it in your form.
MapItFast Lookup is a custom calculation function that can be added to text fields to pull in title, description, length, and area for lines and polygons, in either metric or imperial units.
Read the Docs
Email Reports From the Field
6
When you create printable reports for your Strider form, you get an automatically generated report for each submission. These reports print beautifully and are email-ready for easy sharing. In fact, you can set up your forms to automatically send reports by email when the form is submitted, whether at the office or in the field.
You can design your form to email pre-determined addresses, or let users choose different recipients for each submission using text or select fields. Strider's powerful conditional logic even lets you control whether a report is sent every time a form is submitted or only when certain form fields are filled out.
5
Auto-Calculate Distance and Area
MapItFast uses your device's built-in GPS capability to register precise location information for all your map objects. Simply tap on a completed object from MapItFast Web or the App and instantly see longitude, latitude, and elevation for points, distance for lines, and area for polygons.
Note: Objects drawn by hand do not get an associated elevation value. This can be a handy way to differentiate objects obtained by GPS versus those that were drawn when viewing their attributes on the web or mobile devices. Read the Docs

With MapItfast's Data Dictionaries, you can create presets for commonly used types of point, line, or polygon. Set the name, choose a marker icon and design the line and fill style for objects that you create frequently. Simply select your preset when you create the object, and all this detail is filled in for you.

Read the Docs

Your field work is about mapping, not project organization. With MapItFast's Copy to Project functionality, there is no need to scroll through your list of projects to find just the right one. Simply start a new project and get mapping. Once you're back in the office, you can use the handy lasso tool in MapItFast Web to select your mapped objects and copy them over to your master project.
Another use for the copy to project feature is to isolate types of object. For instance, you can maintain a master project with all locations and details for your entire weed survey. If you want to view just the Canada Thistle, for example, you can select all the weed objects, sort your selection by name, and de-select all but the Canada Thistle. Then copy the these objects to a new project to see the expanse of just this one type of weed.
Read the Docs

Split Polygons and Add Donuts
2
Land use evolves, and your mapping needs to keep up. Perhaps you have decided to divide a field into two separate plots. Or maybe you've established a reclamation area within an existing site. Rather than head out in the field to re-map your new boundaries, you can use MapItFast Web to modify your existing polygon objects.
To use the Split function, draw a line that completely crosses the polygon following the new boundary between them. MapItFast will turn your single object into two separate ones, which you can rename, edit and even move independently.
To extract an area from within a polygon, select the Add Donut function. Draw a polygon following the lines of your new sub-area. MapItFast will update your existing polygon to omit the area you draw.
Get visual updates on shared MapItFast projects in real-time with Active Map Triggers. Records in any Strider from can be enabled with a trigger so that when a user changes and entry, MapItFast displays the status change automatically by modifying the appearance of the associated map object.
Change the icon for a point to indicate a potential problem or change the color of a polygon to show users that the area has been surveyed.
Now administrators can indicate objects that need attention, and field workers can inform the home office when tasks have been completed, visually and all in real-time.