Pesticide Application Mapping and Reporting Made Simple
SprayLogger is a complete hardware and software system for automated spray tracking. And it is incredibly easy to use. Quickly retrofitted on absolutely any spray rig from trucks and ATVs to watercraft or even backpacks, SprayLogger generates live, moving maps that both applicators in the field and office personnel can follow in real-time. At the end of each application, SprayLogger automatically generates detailed, printable reports designed to meet all state and federal application reporting requirements.
SprayLogger is simply the easiest way to generate professional application maps and reports without changing the way you spray. Now you can quickly satisfy your customer's needs while avoiding the hassle and errors typically associated with making maps and filling out reports by hand.
Take your mapping and data gathering beyond the spray lines
SprayLogger is a plugin to MapItFast, which gives you access to AgTerra's complete line of mapping (MapItFast) and data gathering (Strider Forms & Reports) tools. Create custom forms, and attach them to any map object. Simultaneously map points, lines, polygons and geophotos using GPS or hand drawing without interrupting spray tracking. Even further, authorized users have access to MapItFast Web, our browser-based mapping console, where they can view activity of other users in real-time.
SprayLogger is the leading mapping and reporting system for the vegetation management industry. The system is widely used across the United States and Canada among large enterprises including DOTs, railroads, utilities, oil and gas, and vegetation management companies. In addition to tracking and reporting on pesticide application, vegetation management professionals use MapItFast and Strider to record weed inventories, dispatch crews to new job assignments, document field observations and much more. Learn how you can leverage AgTerra's complete mapping, data gathering and reporting power to simplify your operations on our Vegetation Management Solutions page.
Track
Automated spray tracking lets you capture and view GPS location, spray width and application details at the moment of application. See real-time status of every applicator on every job.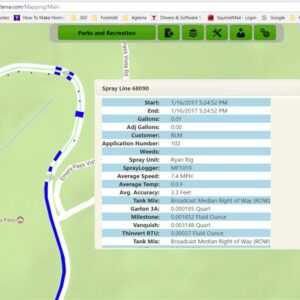 Map
Map all spray and no-spray activity in real-time with location and time.  Automatically capture exact area, targets, chemical amount and type from one or many tanks, spray sections, nozzles and more.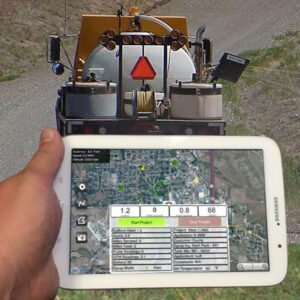 Report
Create customized application reports that can be printed with detailed chemical usage, weather and job costing information for internal use, customer invoicing and more.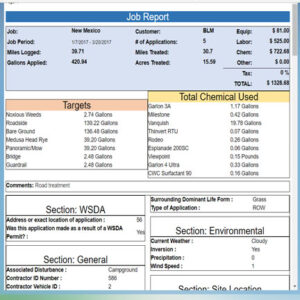 Share
Allow authorized users to view applications in real time. Export to any GIS using shapefile, KMZ, GPX or use the optional API to integrate with ESRI geodatabases.
Automated Spray Tracking and Reporting Made Even Simpler!
The SprayLogger "Fast Start" menu lets spray applicators start a job by answering 1-5 simple questions on their Android mobile device. From there SprayLogger does the rest. Detailed maps and reports are automatically generated showing every spray detail from active chemicals applied, what spray sections were activated where, weather, costing, applicator information and more. With an internal high-accuracy GPS antenna, you will also get better maps that show your exact application location details.
Combined with automatic cloud storage, your projects will be available for printing when you pull into the shop. No more paper reports to fill out by hand. You simply download your automatically generated reports and maps from your online account. Your customers get the detailed reports they demand. You save time and get more jobs.
SprayLogger E3 Series
The SprayLogger E3 Series Vehicle Mounted unit is powerful enough to capture every spray detail from the largest rigs with the most complex setups. The multi-port tracking system allows applicators to independently track up to 15 different spray sections and 4 flow sensors.  The E3 Series works with both injection systems and tank mixes. Applicators can even switch between tank mixes quickly without altering SprayLogger's tracking. The E3 Series will also measure variable flow rates and pressure sensors. Whether you need to track and map a single flow line or multiple spray sections and nozzles, the SprayLogger E3 Series does it.
SprayLogger Backpack Lite
AgTerra introduced SprayLogger Backpack Lite to bring SprayLogger precision to the backcountry. Backpack Lite records low-flow applications without sacrificing accuracy. The light-weight system is designed to work in the most remote areas utilizing the free GPS services that come included with your Android mobile device, even without a data connection.
At only 6 ounces, the compact datalogger give you powerful, precision spray tacking without the need for a flow sensor. For single nozzle applications in locations not easily accessed by vehicles, Backpack Lite keeps your data flowing.
Spray away. A long way away!
Whether that job in the backcountry has you on a hose reel or a backpack, SprayLogger stores data and maps every application on your device until you re-establish a data connection. Then, everything is automatically uploaded to your private account. Automated spray tracking means there is no manual data transfer required.
A Professional Image Makes All the Difference
SprayLogger enables you to exceed customer expectations by delivering professional maps and reports for your spray jobs with very little effort. Automation unlocks efficiencies in your operation. SprayLogger takes the hassle out of measuring  important variables such as chemical usage, costs and weather data while also managing workflow and personnel.
SprayLogger adds value to any spray operation. AgTerra's system generates detailed reporting with a wide array additional of features:
Map spray and no-spray applications for every spray job in real time.
Capture details including the exact amount of active ingredient applied.
Log spray width and location for tanks, sections, nozzles, and even hose reels.
Filter and report by date, target pests, chemical, customer, applicator and spray rig.
Export to database or GIS formats including CSV, KMZ and SHP for use in third-party systems such as Google Earth and ArcGIS.
Use with low volume, high volume and variable rate applications on a wide variety of sprayers, inlcuding UTV, truck, hy-rail, watercraft, foggers and backpacks.
Create monthly and yearly detailed summary reports for every job showing total gallons, acres, chemicals used, and more for every customer.
Generate professional reports with a business logo, complete application details, time, costs, detailed weather, applicators, signatures and a spray map.
Keep Spraying and Leave the Reporting to Us
More spray time, less desk time, isn't just a catchy saying. AgTerra understands that spray applicators have limited time to get their jobs done each season. They can't be dedicating any of those hours to collecting data and writing up reports for regulators. We developed SprayLogger to keep you spraying and reduce the time it takes to create maps and reports. SprayLogger automates your data gathering and reporting tasks, generating the detailed reports your customers expect without the errors of pen and paper entry. By including printable reports of every application on automatically generated emails, you can improve efficiency in your weed control and vegetation management operations and focus on spraying.
Get the most advanced pesticide record keeping system on the market.
Call AgTerra TODAY to get started at (307) 673-1050.
For well over a decade AgTerra has enabled natural resource professionals to simplify data collection and reporting while delivering greater value to their customers.  How can we help you?  Contact us today and let us help you learn how easy and affordable our technology can be for your workforce and operations.