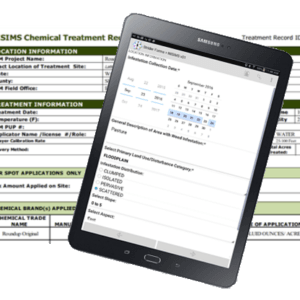 The Bureau of Land Management (BLM) implemented the National Invasive Species Information Management System, or NISIMS, with the intent to standardize the way weed infestations are recorded and treated across the country. NISIMS data is collected throughout all BLM lands and is ultimately integrated into a national BLM geospatial database.
AgTerra helps you gather NISIMS ready data with our MapItFast module for NISIMS chemical and mechanical treatments. The MapItFast NISIMS module delivers speed and accuracy enhancements over existing paper and electronic forms. Custom designed Strider forms capture data in the format expected by the BLM. You simply attach the forms to any object in MapItFast and fill them out directly from your mobile device.
By integrating with low-cost mobile devices, you can capture accurate GPS information automatically without the need for expensive GPS units. Form updates and data downloads happen automatically so there is no extra effort or learning curve that is often associated with theWindows Mobile Device Center and check-in/check-out processes.
MapItFast is an ideal platform for NISIMS based data collection because it provides field workers with a simple, easy-to-use option for collecting NISIMS data. There is no need to go through multiple steps when you want to draw a polygon on the map – with MapItFast, it really is "One Tap to Map."
With MapItFast, your data is:
NISIMS Ready – Our NISIMS forms contain the same database IDs as those in the national geodatabase, so database integration is no problem.
Easy to Complete – Use the map to drop your point, line, polygon or photo, then fill out a form that walks you through the questions. That's all there is to it!
Standardized – Our forms contain controls and validation measures to assure proper, complete records.
Automated – Lookup tables within the forms assist with quick data entry.
Synchronized – Completed records and updates to forms are synched with the server regularly, so all data is available when you need it.
Available Offline – Data can be collected in even the most remote locations. Once you're back in a connected environment, the information is automatically pushed to the server.
Customizable – BLM-style reports supplied by AgTerra can be personalized with your company logo for business use.
Specific Features of the NISIMS Module
The MapItFast NISIMS Module meets the requirements set forth by the BLM for NISIMS ready data collection while also serving as a business ready tool for other mapping, data gathering and reporting requirements. NISIMS Module features include:
Two Forms. One input form for Infestation and one for Treatment (Chemical, Manual, Mechanical included)
Four Reports. One each for chemical, manual and mechanical treatments and one for infestations.
Customizable lookup tables with automatic updates to forms – no need to create a new geodatabase.
Proper data entry with built-in data validation
Skip logic in forms chooses the questions relevant to your selected treatment type (i.e. chemical treatments vs. manual treatments)
Geodatabase compatible field names are already in NISIMS ready format.
Flexible map objects meaning that points, lines and polygons can be assigned multiple forms at once.
Multiple export options for databases (including Excel) or GIS formats (including shapefile).
Auto-sync your data between the field and a centralized database; no check-in/ check-out process required.
Securely and automatically integrate with a BLM's field office geodatabase.
Use a preloaded or a customized basemap to add points, lines or polygons and associate NISIMS forms.
Generate business-side reports that may include company logo, maps, and photos.
E-mail reporting capability while in the field or from the office.
Secure and controlled user access with extensive permissions for project data.
Offline use and no cellular data plan required for operation.
Powerful Online Data Management
MapItFast's Web-based client allows administrators to manage map projects, data, reports and users from a central portal. MapItFast Web is an easy to use console that eliminates the expense and training associated with managing data from an ArcGIS desktop.  Large volumes of spatial and tabular data can be searched, queried, sorted and exported to a wide variety of formats, including PDF, XLS, XML, SHP, KMZ, e-mail and others.
Low Cost, High Value
MapItFast delivers more features at a lower price than other hardware and software offerings.  Mapping, form filling and reporting are available in one complete system.  The system is flexible to meet current needs, yet scalable to meet future business requirements.
MapItFast isn't just for NISIMS!
The software serves as an enterprise asset mapping and data maintenance solution for both office and mobile environments. MapItFast streamlines professional services for activities such as inspections, work assignments, job costing, work progress, and compliance with advanced mapping and reporting.
As with the NISIMS module, input forms can be customized around nearly any business process and related reports may include features such as company logos, photos, map images, and signatures.
Contact us today to learn more and set up a FREE LIVE DEMO!