Strider Reporting
collect and report without boundaries
Electronic Forms, Powerful Reporting
Strider Reporting simplifies electronic reporting while abolishing the time and errors typically associated with paperwork.  There are numerous features that address even the most complex data collection requirements.  With Strider, data collection tools simply tasks such as finding drop-down selections, counting and calculations, scanning barcodes, etc.  The printable reports that can be included with any form allow you to include logos, maps, photos, signatures and more.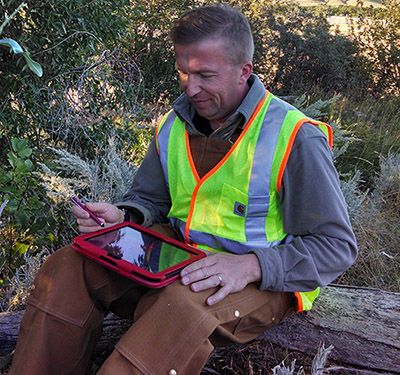 FLEXIBLE AND SCALABLE
Build electronic forms with powerful functions and numerous controls.  Make changes or additions to forms and reports without interrupting workflow and keep the staff updated while they are in the field.  There are no limitations on the number or kinds of forms and reports you can have.
YOU'RE IN CONTROL
Deploy changes across the organization instantly and manage your teams from anywhere.  Strider includes enterprise level management so you can assign permissions and controls to your users and forms as required.  Extend data collection across a myriad of devices so your users use the devices they comfortable using.
MAINTAIN YOUR CURRENT OPERATIONS
Strider is designed to integrate with your company's existing database systems.  Whether you export using commonly accepted database formats or seamlessly tie your data to existing systems using our REST API, there is no need to eliminate your legacy systems.
THE FEATURES YOU NEED
Numerous Form Controls
Strider provides numerous form controls to simplify and speed data collection including text and numeric entry, dropdown menus, checkboxes, radio buttons, auto-complete, photo collection and markup, GPS location, date and time, drawings, lookup tables and more.
Powerful Form Functions
Make form entry even easier for your users with functions including validation, adding multiple questions to a page, labeling sections, adding skip logic, auto advancing pages, including subforms, performing calculations, referencing lookup tables, and more.
Multiple Ways to Enter Data
Strider permits data entry in a manner that matches your workflow needs.  Use keyboard, handwriting input, voice, barcodes, and/or RFID to gather data.  Previous entries narrow down questions.  Questions and responses can even be presented and gathered using foreign languages.
Easy Form and Report Design
Use Excel or or a non-proprietary online designer to create forms.  You can add one or many reports (including company logos, tables, colored fonts, signatures, etc.) to any form using the online report generator that is included for free with Strider.
Simplified Data Management
Strider data is centralized into one location where it can be securely accessed from any web browser.  You can search, sort, filter and query through thousands of records and then export to multiple data formats including CSV, XML, MDB, etc.
Enterprise Level Controls
Strider's enterprise level controls help you keep everyone in the organization on track whether they are in the office or not.  Administrators provide project level controls and permissions and manage form distribution and audit trails.
ADVANCED TOOLS FOR ENDLESS FLEXIBILITY
| | |
| --- | --- |
|  FORM  CONTROLS | DESCRIPTION |
|    Text Entry | Short or Long Answers |
|    Numeric Entry | Integer, Decimal |
|    Date/Time | Select or auto capture |
|    Dropdown Menus | Rolls a list of choices when selected |
|    Checkbox Selection | Single or multiple; within page or as a pop-up |
|    Radio Button Selection | Single or multiple; within page or as a pop-up |
|    Photo Capture | Uses device's built in camera |
|    Photo Annotation | Markup a photo |
|    Signature Capture | Sign with finger or stylus |
|    GPS Location Capture | Uses device's GPS; single point location, included in KMZ export |
|    Barcode Capture | Use barcode capture feature in device |
|    Freehand Sketch | New Drawing and/or Photo Markup |
|    Email | Provides ability to email a report directly from the device |
|  FORM FUNCTIONS | DESCRIPTION |
|    Multiple Questions on One Page | Used for data entry convenience |
|    Skip Logic | Go to different areas in a form depending on response |
|    Auto Page Advance | Go to next page without swiping screen |
|    Repeatable Sections/ Subforms | Helps avoid re-entering repeated information, 2 levels allowed |
|    Section Labels | Keeps user informed on location within a form |
|    Calculations | Automate math operations while filling a form |
|    Validation | Assure required and/or reasonable responses are gathered |
|  DATA ENTRY AIDS | DESCRIPTION |
|    Voice and Handwriting Input | May require 3rd party app on Android devices |
|    Multiple Languages | Questions and responses for most foreign languages |
|  WORKFLOW CONTROLS | DESCRIPTION |
|    Data Selection Changes | Easily change entries used in drop-downs, checkboxes, and radio buttons |
|    Form Versioning | Assure everyone has access to latest available version |
|    Audit Trails | Updates to records and forms recorded |
|    Secure Transmission | HTTPS using high level 2048 bit SSL encryption |
|    User Level Provisioning | Control editing and viewing access for forms, records and reports |
|  SYSTEM FEATURES | DESCRIPTION |
|    Easy Form Development | Use Excel or online form builder to create/modify forms |
|    Easy Report Development | Use word processor to create/modify reports |
|    Intuitive Data Capture | Little to no training required |
|    Secure | Secure data transmission; user level controls |
|    Quick Search and Filter | Quickly search any record, create/store filters for detailed searches |
|    Easy to Share | Share via online permissions, email, PDF reports or exported data |
|    Integrates with Existing Databases | Export to CSV, KMX and SHP formats provides ability to use in most 3rd party database and mapping systems |
|    Numerous Forms and Reports | Create forms and reports for all departments in the business |
Instructional Resources and Videos
Comprehensive and printable help guides with numerous screenshots are included with your account.  Also included is a complete channel of instructional videos.  Some examples showing Strider Reporting in action are shown below:
Viewing and Managing Data Online
Building, Viewing and Sharing Reports
Contact AgTerra TODAY to learn how
Strider will make your business better.
For well over a decade AgTerra has enabled natural resource professionals to simplify data collection and reporting while delivering greater value to their customers.  How can we help you?  Contact us today for a FREE demo and let us help you learn how easy and affordable our technology can be for your workforce and operations.